A More Beautiful Place,
One Kitchen & Bathroom At A Time!
All of our work is fabricated and manufactured by our very own professional teams. Our professional services include Kitchen and Bathroom design and consultation, removal of existing countertop, bathroom or kitchen items, templating, fabrication, and installation for residential and commercial projects. We specialize in fabricating and installing granite, marble, quartz kitchen countertops, bathroom  showers, tubs, cabinets, shower doors, fixtures and vanity cabinets, full slab walls, tub surrounds, turn-key remodeling and many custom applications in Middle Georgia. Whether you are remodeling your existing kitchen or bathroom, or building your dream kitchen or bathrooms, we can help you every step of the way. Visit our renovated showroom for ideas.
At Marble Masters, we have a wide variety of surface types and edge profiles to choose from. Read more information here.
Whether it be a kitchen renovation or a new shower, you can count on Marble Masters to get the job done. When you turn to us, we'll work hard to exceed your expectations. Most of our projects only take one or maybe two days for our crews to remove your old materials and install your new surfaces.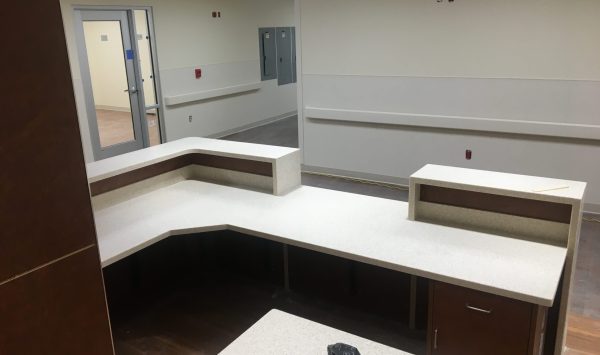 Not sure what style you want in your commercial building? We can help you navigate your options and select the perfect look for your project. Our showroom is always open, and our experts are always willing to assist you. Stop by today, and we'll show you why we've been Warner Robins' & middle Georgia's preferred choice for marble, granite and quartz surfaces since 1973.
Not satisfied with your current kitchen or bath? Ready to enhance the look and value of your home or commercial building with premium marble, granite or quartz? Marble Masters is the company you've been searching for! We've been in the kitchen and bath industry for more than 40 years and have the experience to handle any project, big or small.
Whether you're building a new home and want us to install your new marble countertops or you're remodeling your bathroom and need a new shower, you can count on us to get the job done right. Contact us at 478-929-2766 to speak with one of our professionals. We'll be happy to answer any questions you may have and offer you a free estimate.
Now Offering
Kitchen and Bathroom Accessibility!
" We just had Marble Masters redo our two showers with cultured marble walls and tempered glass doors. They are beautiful! The employees are all great and the process was very easy. They took care of the plumbing, a little carpentry, and made great suggestions that improved our original design ideas. The price was as estimated and in our minds a great value."​
Carlo M